When you click on one of these links, a new browser window will open, for your convenience.
Tax Sites on the Web
Code and Regs
A very handy place to find the tax code and IRS regulations is
provided by Intuit on their Tax Almanac web site.
Internal Revenue Service: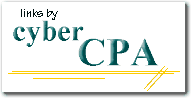 USCIS form I-9:
Adobe Acrobat:
For tax forms and publications, you will need the Adobe Acrobat Reader. In case you don't already have it, here's where you can get it.