Link to This Big List of Links
We invite you to link to these Web pages.
These pages contain over 300 high quality links.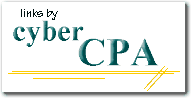 These pages are a very valuable resource for accountants, including links to accounting, tax, finance, business, and other information.
These Web pages are:
Good selection of links
Not too many, not too few. Focused on business in general, and the accounting profession in particular.
Fast loading
Bill Downs uses his Webmaster tricks to make these Web pages load quickly. And there are no annoying advertising banners!!
Easy to navigate
We use "frames", which is a common HTML tool, to keep the table of contents visible in the left frame.
Updated regularly
We are constantly reviewing the links, adding new ones when appropriate, fixing or removing broken links.
Compatible with all browsers
Older browsers won't have any trouble with these Web pages. And page layout does not rely on java script.
Free
These link pages are free, with no log-in or password required.
---
Your Feedback
If you wish to comment on these Web pages, or to submit an item to be added to the links, send an e-mail message to William Downs, CPA.